Follow Thomas Pakenham's tree trail of his favourite 24 trees throughout the gardens of Tullynally.
EXPLORE TRAIL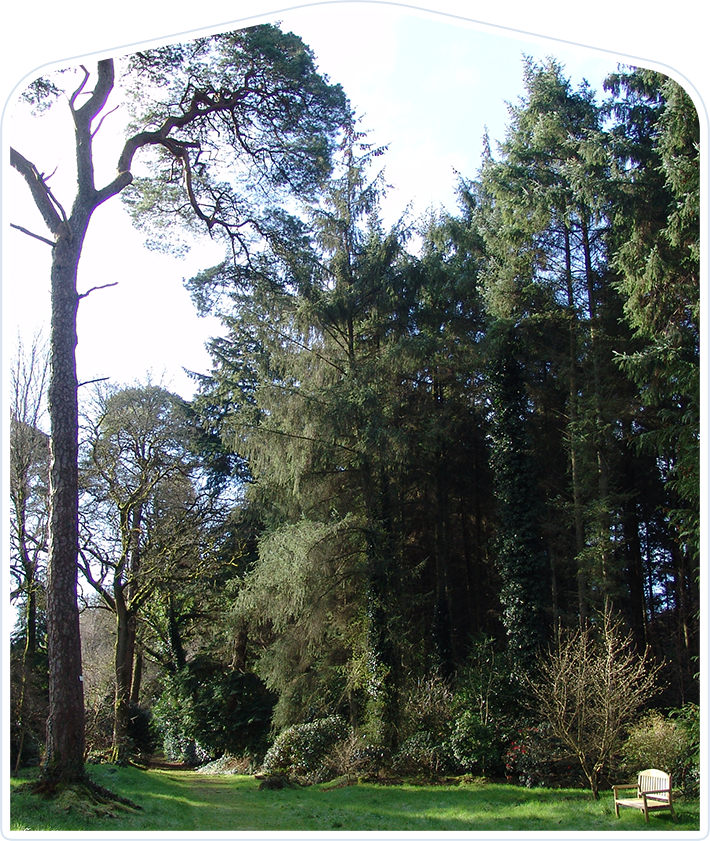 Discover The 24 Trees
Of course Thomas loves all the trees at Tullynally, and has written many books on the subject, particularly his latest In the Company of Trees. This tree trail is designed to give you a taste of his favourites whilst wandering through the gardens and parkland. The 24 trees are numbered, with some on the path and some a little way off it; please use the garden map as a finding aid. It will take approximately an hour to complete the trail at a leisurely pace.
BOOK
A properly beautiful place to take a walk.
If you love trees then this is definitely a spot to visit. You need to slowly stroll about the grounds to fully take in the stunning beauty of it all. The awesome trees really make the place special.
John Blain
July 2021
Beautiful House and Gardens
We visited Tullynally Castle to see the gardens recently. The entrance fee is 8e and is very worth it. With that you get a great map of the gardens. I think you can also request a tree guide, although we didn't. The trail is well sign-posted, with lots of points of interest. The gardens are so beautifully maintained, but not in an overly manicured way. It was a lovely relaxing walk, and we enjoyed watching the Swans and signets on the lake and also meeting the Llamas. The cafe in the courtyard of the castle had lovely fresh Quiche and salad, fresh baked goods, soup, etc. and lovely coffee. Definitely worth trip if you are in the area!
Customer Review
June 2022
Terrific day out
We really enjoyed our day at Tullynally Castle. While the grounds are magnificent, the highlight for us was the chance to tour the castle. It was fascinating. It was made more enjoyable in the knowledge that the castle is also a home and is in constant use by a family. Some of the high points included the more humble aspects of castle life in times gone by – the laundry and drying rooms and the kitchens. We will definitely be back for another tour as it's certainly warranted. Our tour guide, Magda, was excellent and balanced the interesting content with plenty of humour.
Carmel, Ireland
May 2022
Stay up to date
For the latest news and events from Tullynally, please subscribe to our mailing list.