The Tearoom at Tullynally is open 11am to 5pm. Covered outdoor and indoor seating available to enjoy wonderful coffee, teas and homemade refreshments. Contact Matt on tearoomstullynally@gmail.com for group bookings.
EXPLORE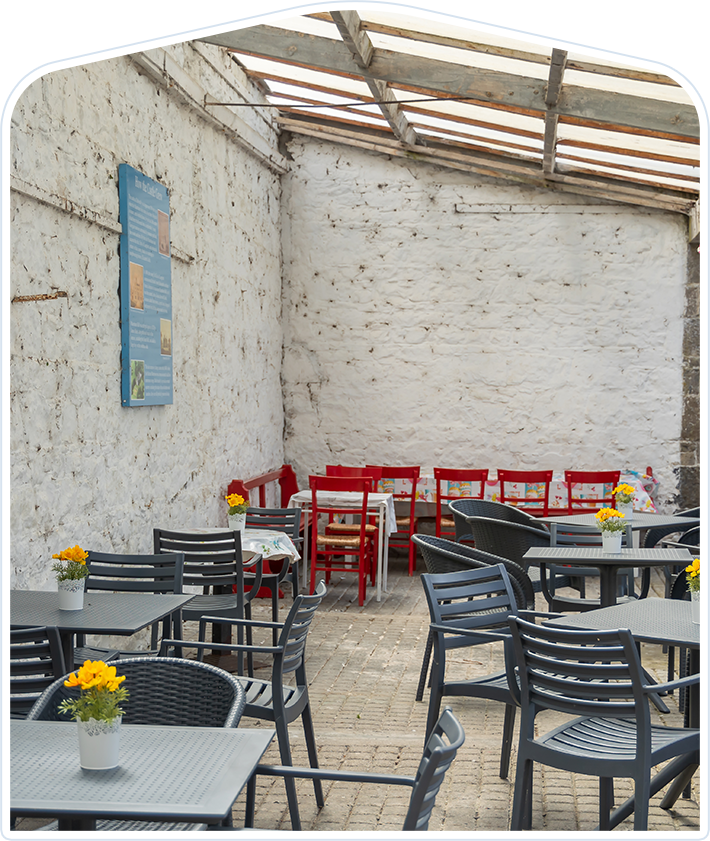 Courtyard Tearooom
The Tearoom (which also serves as our Ticket Office) is set in the Castle Courtyard. You can reach it direct from the carpark (signposted) through the original archway through the old Georgian stable block. The Tearoom was once home to the Earl's hunters and coachhorses and you can still see recesses for the individual stalls, and peer out through Georgian windows at his handsome clocktower.
The Tearoom is open the same hours as the Gardens and you can choose to eat either in the cosy tearoom itself or in the sunny loggia outside.
Gardens Open April to September
Just 80 minutes from Dublin by car
Opening Hours
Thursday to Sunday:
11am to 5pm
Monday to Wednesday:
Closed
Comfortable Outdoor Seating in Covered open Courtyard
Friendly welcoming staff in this most magnificent of settings. Truly the most hidden gem of the midlands. Great sandwiches, quiche, coffee and cake.
Customer Review
July 2021
Beautiful House and Gardens
We visited Tullynally Castle to see the gardens recently. The entrance fee is 8e and is very worth it. With that you get a great map of the gardens. I think you can also request a tree guide, although we didn't. The trail is well sign-posted, with lots of points of interest. The gardens are so beautifully maintained, but not in an overly manicured way. It was a lovely relaxing walk, and we enjoyed watching the Swans and signets on the lake and also meeting the Llamas. The cafe in the courtyard of the castle had lovely fresh Quiche and salad, fresh baked goods, soup, etc. and lovely coffee. Definitely worth trip if you are in the area!
Customer Review
June 2022
Terrific day out
We really enjoyed our day at Tullynally Castle. While the grounds are magnificent, the highlight for us was the chance to tour the castle. It was fascinating. It was made more enjoyable in the knowledge that the castle is also a home and is in constant use by a family. Some of the high points included the more humble aspects of castle life in times gone by – the laundry and drying rooms and the kitchens. We will definitely be back for another tour as it's certainly warranted. Our tour guide, Magda, was excellent and balanced the interesting content with plenty of humour.
Carmel, Ireland
May 2022
Stay up to date
For the latest news and events from Tullynally, please subscribe to our mailing list.