There's something for everyone in the gardens at Tullynally. From the ravishing view of the parkland to the serene glades of the Forest Walk, experience the peace of a glorious landscaped garden.
WATCH VIDEO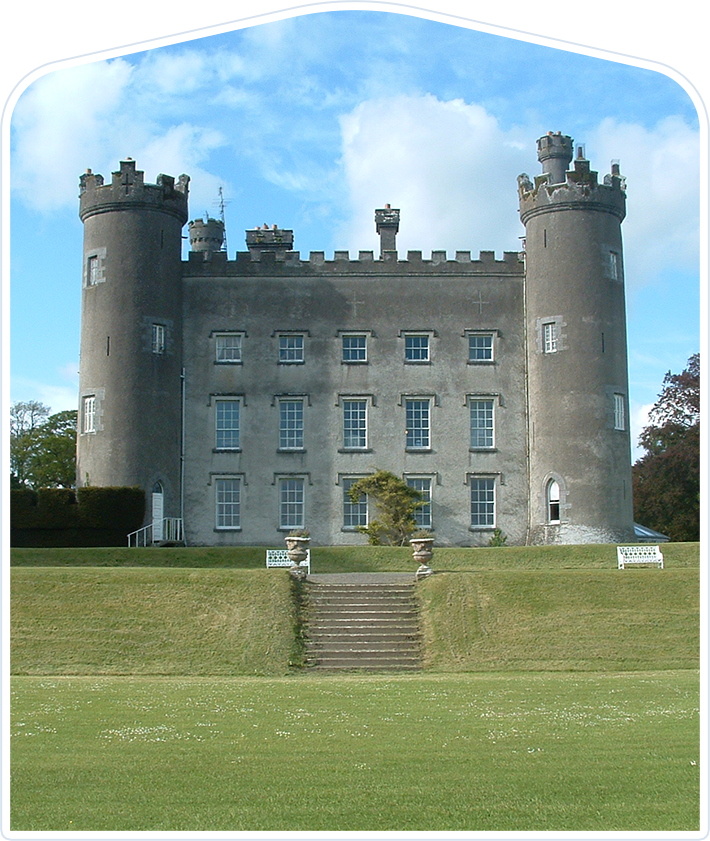 Welcome to the Gardens
There are over 12 acres of garden in all, divided between walled gardens, extensive woodland gardens and 2 ornamental lakes. Much of the present layout dates from the early 1800s, but the current owners, Thomas and Valerie Pakenham have gardened here for over 50 years and added many new features. For more background history of the gardens and of the castle itself please see our History tab.
Please note that this is a perfect garden for children to explore. There is a special Children's Discovery Trail listing exciting things for them to look for throughout the gardens available in the Tearoom. We also welcome School Tours.
BOOK
Map of The Gardens
The Garden Map marks 17 places in the gardens to guide you in your visit. Beginning at the Castle Terraces, take the path through the Pleasure Ground down to the Grotto and Flower Garden. In the Kitchen Garden you can visit the llama family and see the Nandi bulls, then follow the path back round to the Upper Lake where various huts will give you a chance to pause and enjoy the view. At the turning to the Forest Walk, don't miss the Tibetan Glade, then follow the woodland path past the Chinese Garden to the Lower Lake and Magnolia Grove before making your way back up to the Castle for some well deserved tea.
DOWNLOAD MAP
Closed Until April 2024
Tullynally Castle, Gardens and Tearoom are now closed until April 2024. Please sign up to our newsletter to keep updated.
Opening Hours
Thursday to Sunday:
11am to 5pm
Monday to Wednesday:
Closed
Wonderful outing, immersed in nature
We had a fantastic day at Tullynally. We started with a coffee from the courtyard cafe while reading the pamphlet and getting our bearings on the map of the estate. We then spent hours walking through the gardens and the wider woodlands. It was a truly relaxing and joyous experience. Next time we will take the castle tour.
Owen, Ireland
June 2022
 Heaven
A wonderful special place! So lucky to have this locally to where we live. Garden of Eden
Customer Review
May 2022
Beautiful gardens with a good balance of gravel and grass paths.
Great variety of plants, shrubs and mature trees. There are different themed gardens throughout the property all beautifully maintained. There is a questionnaire available for children with various landmarks and artefacts to find which is good fun and kept them busy and interested. Food and drinks can be purchased on site. A really great day out for all ages.
Olivier Palluel
Sep 2021
Stay up to date
For the latest news and events from Tullynally, please subscribe to our mailing list.